Golf Tournament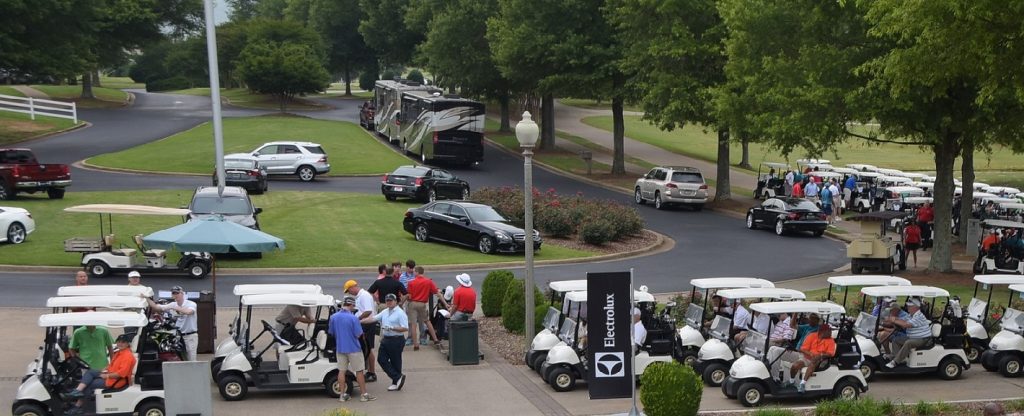 "Golf just got a little more worthwhile!"
Make plans to attend the 14th Annual John Stallworth Celebrity Golf Tournament on June 10, 2016 at Hampton Cove Golf Course! The Pairings Party will be held on Thursday, June , 6:00 p.m. registration; event starts at 6:30 at the Westin-Huntsville. Ticket must be presented for admission.
Tournament Details:
2016 Player Online Registration
Tournament check-in and breakfast will begin at 7:00, with a shotgun start for the tournament at 8:00. Cost per team is $1,000; individuals golfers $250 (individual golfers will be assigned to a team). Don't miss your chance to golf with Pro-Football Hall of Famers, former Pittsburgh Steelers and players from other NFL teams, and Alabama and Auburn alumni.
Remember, golf teams are assigned to their preferred course on a first-come, first-served basis. This tournament always sells-out; be sure to register early! Deadline for registration and payment is June 1.

Pairings Party Details:
2016 Pairings Party Online Registration
The Celebrity Pairings Party is open to sponsors, players, and the general public. Tickets are $75 per person or $125 per couple. Golfers who register/pay by June 1st may purchase a pairings party ticket at the same time for reduced price of $50 ($300 total).
You must register and pre-pay by June 1st to ensure your name is on the guest list. There will be no walk-up admission allowed at the tournament or pairings party, due to catering and other commitments.  Ticket must be presented for admission.
Tournament Sponsorships:
Please call 256-536-8050 if you would like to sponsor the event.
Proceeds from this event will assist deserving, academically gifted students who are awarded scholarships to attend 4-year colleges and universities in the state of Alabama and A&M University. We appreciate your support and generosity! Together, we have provided over $490,000 in scholarship funds – ensuring a bright future for many promising young adults as they enter the workforce!
2016 Celebrity Attendees
John Banaszak
Mel Blount
Terry Bradshaw
Robin Cole
Dick Conn
Joe Cribbs
Randy Fuller
Reginald Garrett, Sr.
Anthony Grant
Bobby Lee Harden
Condredge Holloway
Frank Lewis
Louis Lipps
Greg Lloyd
Antonio London
Will Lowery
Ronald McKinnon
Spike McRoy
Michael Merriweather
Gary Redus
Andre' Reed
Donnie Shell
Richard Shelton
John Stallworth
Dwight Stephenson
Cliff Stoudt
Tim Stowers
Calvin Sweeney
Barry Wagner
Dave Washington
Hines Ward
Ken Woodard
Dwayne Woodruff
Tim Worley